Hi everyone, Yaz here with the first book in a new series by Faith Hunter. I loved this book when I first read it and it's quickly become one of my top favourite series'.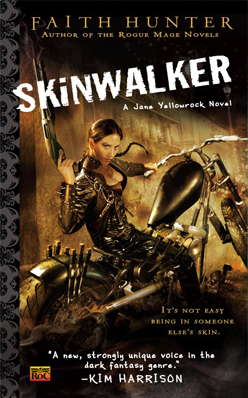 Goodreads Blurb
Jane Yellowrock is the last of her kind-a skinwalker of Cherokee descent who can turn into any creature she desires and hunts vampires for a living. But now she's been hired by Katherine Fontaneau, one of the oldest vampires in New Orleans and the madam of Katie's Ladies, to hunt a powerful rogue vampire who's killing other vamps...
My Review
The blurb doesn't do the book justice, in my opinion, there is so much more going on. Jane is a tough-as-nails vampire hunter for hire, and her being a skin walker is a long kept secret, the beast the other part of her, has a sense of humour and is aware of Jane as much as she is aware of her. Jane prefers to stay away from the limelight and focus on the job at hand but the circumstances of her current job escalate out of control.
I liked Jane very much, she is tough, smart mouthed and kicks butt likes there's no tomorrow, but she is also tenderhearted-she cares about people, and doesn't sleep around, which I find really refreshing. There's a choice of love interest for Jane, both who are intriguing characters. George Dumas (aka Bruiser); Rick, a hot cajun motorcycle bad boy.
Skin Walker is the first book of this brilliant series which will appeal to anyone looking for something new to read. There are three more books in the series, Blood Cross, Mercy Blade and Raven Cursed and another one, Death's Rival coming soon.