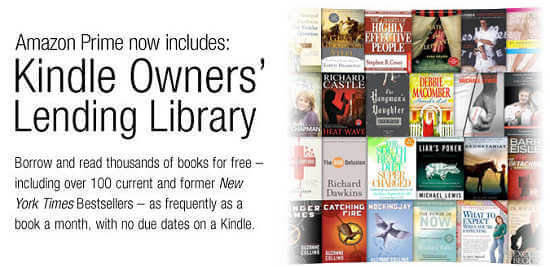 I must admit that I jumped for joy when Amazon announced the Kindle Fire and the new Kindle Paperwhite in the UK, along with the Kindle Owners Lending Library in October 2012, but my bubble soon burst when I realised that Friend Lending still wasn't available to UK customer. Boo!
Kindle Owners Lending Library is part of the Amazon Prime membership, Prime members will be able to 'borrow' one book a month for free, though this sounds good in theory it will set you back £49 per month and can only be read on Kindle devices.
There has been no mention if the Kindle Friend Ebook Lending feature will also be available to us in the future, which I have been waiting for with baited breath ever since buying my first Kindle. It doesn't cost anything and you can share a book you have purchased with a friend. The friend gets two weeks to read the 'borrowed' ebook, during that time it will be unavailable to you and can only be shared once with that person.
I always thought that UK customers get the short end of the stick when it comes to services, despite paying more, we are still restricted by content available to our devices. But with more and more companies jumping on the ebook wagon the future looks promising.